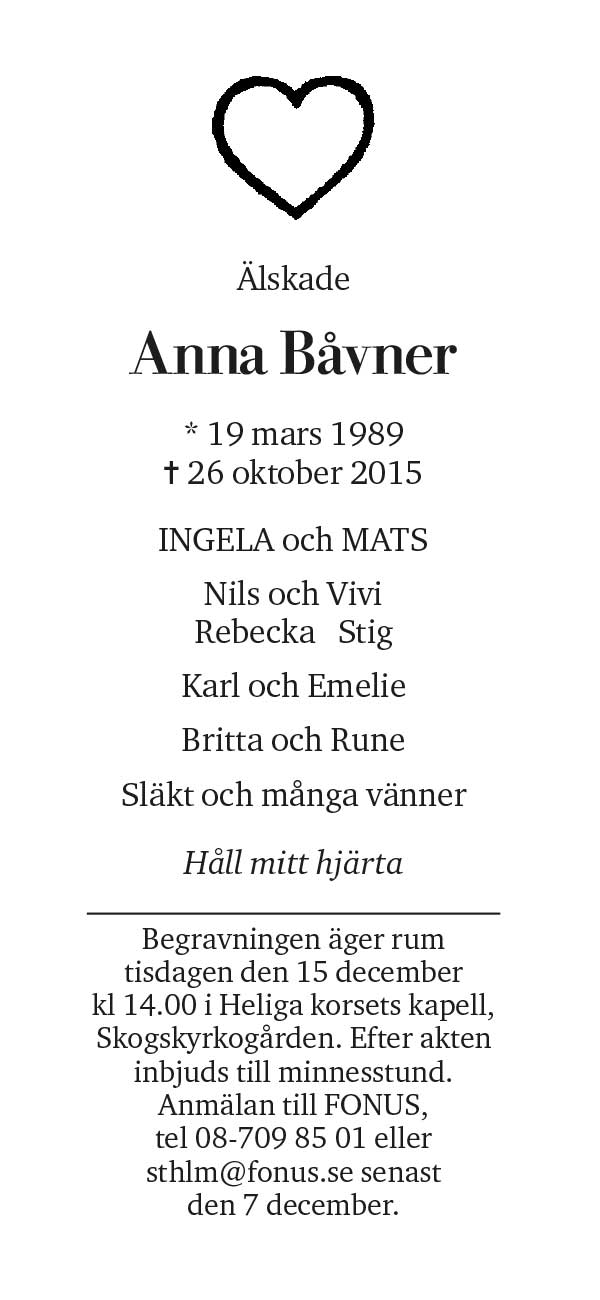 Annas begravning
Annas begravning kommer att ske tisdagen den 15 december kl 14.00 i Heliga korsets kapell på Skogskyrkogården i Stockholm. Alla Annas och våra vänner är varmt välkomna att delta. Klädseln är valfri. I slutet av begravningen kommer vi att ta ett gemensamt farväl runt kistan, då finns det möjlighet för den som vill att lämna en blomma.
Efteråt går vi tillsammans till en minnesstund på Enskedeterrassen. Där blir det något att äta och dricka och umgås en stund. Då kan de som vill säga något om Anna göra det.
Anmäl dig till Fonus på telefon 08-709 85 01 eller sthlm@fonus.se senast den 7 december.
Har du några frågor så hör gärna av dig till Ingela 070 274 44 33, ingela.rasjo@gmail.com eller Mats 0735 45 44 52, mats.bavner@gmail.com
Anna's funeral
Anna's funeral will take place on Tuesday 15 December at 14:00 in the Heliga korsets kapell (Holy Cross Chapel) at Skogskyrkogården Cemetery in Stockholm. All friends of Anna are welcome to attend. All are encouraged to dress as they wish, we are celebrating Anna's life. At the end of the funeral, we gather as a group around the casket which offers the opportunity for those who want to leave a flower.
Then we will walk to Enskede terrace for more time to share memories. Please join us for food and drink there to exchange stories about our friend, sister and daughter. Those who want to say something about Anna are encouraged to do so.
Please sign up with Fonus (funeral parlour) on telephone 08-709 85 01 or sthlm@fonus.se by 7 December.
Do you have any questions, please contact Ingela +46 70 274 44 33, ingela.rasjo@gmail.com or Mats +46 735 45 44 52, mats.bavner@gmail.com